Thompson Landry Gallery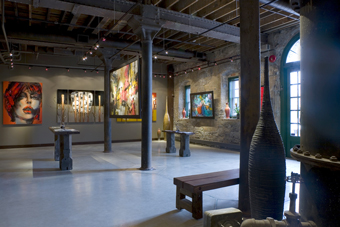 32 Distillery Lane (Stone Distillery Gallery), and 6 Trinity Street (The Cooperage Space), Distillery District, Toronto ON M5A 3C4
Gallery hours: Tues-Sat 11-6, Sun 12-5 or by appointment. Please note: In light of recent events, and the increase in the threat of Coronavirus (Covid-19), Thompson Landry Gallery must close its doors. We will continue to serve you by working remotely until it is appropriate to resume regular business hours. We would like to reassure you that we will be constantly checking our emails and posting updates on our social media accounts. You can reach us by email or telephone. We encourage you to continue to explore our online and social media outlets such as our Artsy profile, Instagram, Facebook, and Twitter. Your understanding and loyalty during this difficult time is appreciated. We look forward to welcoming you back to the galleries again soon!
T:
416 364 4955
[email protected]
www.thompsonlandry.com
Artsy: www.artsy.net/thompson-landry-gallery.
Instagram: www.instagram.com/thompsonlandrygallery/.
Facebook: www.facebook.com/ThompsonLandryGallery/.
Twitter: www.twitter.com/ThompsonLandry.
The only gallery in Toronto specializing solely in artwork from the province of Quebec, the Thompson Landry Gallery showcases the very best of the new generation of contemporary Quebecois artists, as well as its great masters.
TAG: Canadian, Commercial, Contemporary, Distillery District, Historical, Mixed Media / Collage, Modern, Paintings (oil, acrylic, encaustic, egg tempera, w/c, pastel), Photography / Lens-based
Spring 2020: Group show of new works from Bao, Yoakim Bélanger, Virginie Bocaert, Réal Calder, Sylvain Coulombe, Amélie Desjardins, Renée Durocher, Chantal P. Durocher, Dominique Fortin, France Jodoin, H ... more
Mes têtes en couleur, 16 spectacular new works by Joan Dumouchel, Jun 11-28, 2020 in the Stone Distillery Gallery. This is the artist's first solo show with Thompson Landry Gallery. Please call 416 364 4955 or email ... more