Mayberry Fine Art
Toronto | Winnipeg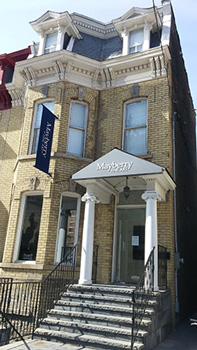 324 Dundas Street West, Toronto ON M5T 1G5
Toronto hours: Tues-Thur 10-6, Fri & Sat 10-5.
T:
416 923 9275
T2:
1 877 871 9261
toronto@mayberryfineart.com
www.mayberryfineart.com
Blog: http://maybeart.ca.
Facebook: www.facebook.com/mayberryfineart.
Twitter: www.twitter.com/mayberryfineart.
Pinterest: www.pinterest.com/mayberryfineart.
Instagram: www.instagram.com/mayberryfineart.
Mayberry Fine Art are dealers in historical and contemporary Canadian works of art. For over 40 years we have been helping our clients build significant and valuable collections of art.We specialize in paintings by the Group of Seven, Canada's post-war artists and leading contemporary artists from across the country.Whether you are interested in collecting or need assistance selling and valuating your artwork, contact us online or visit our Toronto or Winnipeg location to learn how our services and expertise can help. Member of ADAC (Art Dealers Association of Canada).
TAG: Art Dealers Association of Canada (ADAC), Art Toronto 2017, Canadian, Chinatown / Grange Park, Clay and Glass, Commercial, Contemporary, Drawings / Ink / Pastels, First Nations, Historical, Inuit Art, Mixed Media / Collage, Modern, Paintings (oil, acrylic, encaustic, egg tempera, w/c, pastel), Photography / Lens-based, Sculpture / Installation Art
Now accepting consignments for upcoming Consignor Canadian Fine Art sales. For a sale schedule and more information visit www.consignor.ca. Consignor Canadian Fine Art offices are locate ... more