Art Gallery of York University (AGYU)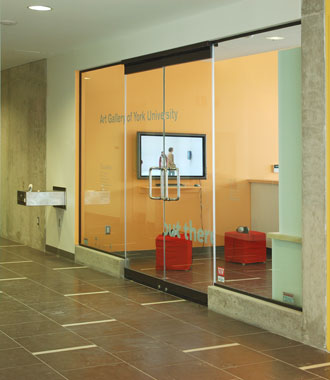 4700 Keele Street, Accolade East Building, Toronto ON M3J 1P3
Hours -- Mon-Fri 10-4, Wed 10-8, Sun 12-5, Sat closed. Directions -- TTC: Ride Line One to York University Station: the Gallery entrance faces the south exit. Driving: Enter YorkU Keele Campus via The Pond Road; park in the Student Services garage. WheelTrans: Closest stop is YorkU Subway Station, north exit.
T:
416 736 5169
[email protected]
www.AGYU.art
Facebook: www.facebook.com/ArtGalleryofYorkUniversity.
Twitter: www.twitter.com/A_G_Y_U.
Instagram: www.instagram.com/a_g_y_u
TAG: American, Artists' Books, Canadian, Canadian Museums Association, Contemporary, Drawings / Ink / Pastels, European, Latin & South American, North York, Ontario Association of Art Galleries (OAAG), Performance Art / Music, Photography / Lens-based, Public Galleries / Museums, Relational / Conceptual Art, Scotiabank CONTACT Photography Festival, Sculpture / Assemblage / Installation Art, Street Art / Public Art, University Galleries / Museums, Video / Film / Sound / Digital
Main Gallery exhibition
AGYU Vitrines
Audio Out Listening Bench
Publications
NEW publications –
Iris Häussler: The Sophie La Rosière Project. Includes essays by Philip Monk, Catherine Sicot, Rui Mateus Amaral, Gérard Audinet and Yan Pélissier.
The
...
more